Sweet Potato Biscuits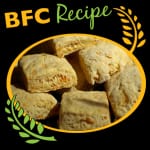 2 cup flour; white, whole wheat or half and half.
1 tbsp baking powder
Dash of salt
4 tbsp cold butter or vegetable spread, such as Earth Balance
1 cup milk
1 cup mashed sweet potato
1 tbsp maple syrup or honey
Preheat oven to 425 degrees.
Sift the flour, baking powder and salt into a medium sized bowl.
Cut the butter or vegetable spread into the flour mixture using a pastry cutter, knives or a food processor.
Mix together the sweet potato, milk, and maple syrup or honey.
Combine the flour and sweet potato mixture and stir together with a fork just until the mixture comes together.
Turn dough out onto a floured surface and knead lightly until the dough is fairly smooth, using more flour if the dough is too sticky. Don't over-knead since that will make a tough biscuit.
Pat the dough out to a thickness of about ½ inch.
Cut with a 2-inch biscuit cutter or small glass.
Bake 15 minutes or until just golden brown. Serve hot!