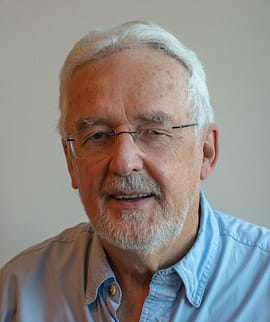 Calvin Dame
he/him/his

1. Why would you like to serve on the Board of Directors of the Brattleboro Food Co-op (BFC)?
As I planned for my retirement years I was looking for a place with a strong sense of community and with people who value sustainability. Brattleboro is one such place, and the Brattleboro Food Co-op embodies that sense of community and works to build sustainability resilience. I want to help to keep BFC strong and I feel I can make a contribution as a member of the Board of Directors.
2. What experience or involvement have you had with the BFC or other cooperative enterprises?
I lived in Vermont in the 1970s as the Vermont food co-ops as we now know them were just taking shape. I was a participant in the Plainfield Coop and friends with those serving as the co-op managers. I was delighted to be able to join BFC when I returned to Vermont eight years ago.
3. What opportunities or challenges do you see in the future for the BFC?
I think the Board's most important task during the coming year will be to facilitate the successful startup of the new General Manager. And then, the ongoing work towards greater diversity, equity, and inclusion continues, so that BFC will really be a welcoming community for all.
4. What qualities, skills, and experiences would you bring to your service as a BFC board member?
As a Unitarian Universalist minister, I have decades of experience with committees, boards, and nonprofits. Most relevant, perhaps, I served on the Unitarian Universalist Association Board of Trustees for eight years. The UUA is in many ways different from a co-op, but it is similar in size, scope and complexity.
An expectation for service on the UUA Board of Trustees (and other boards and committees of the UUA) was Anti-racist and Cultural Competence training, training that is useful in understanding the challenges of diversity and inclusion.
Also, I have experience as a congregational consultant. That work included board development, conflict management and policy governance. Of note, I trained with John Carver, the creator of the Policy Governance model.