A Perfect Roast Beef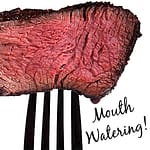 What you will need:
1-2 Pound Roast (A sirloin tip roast is our fave!)
Salt & Pepper
What to do…
Roasting beef is not especially difficult but does require your full attention with regards to cooking time and temperature.Pre-heat oven to 450º F.

Start with a gorgeous tip roast or other beef roast and place in a roasting pan. Season with salt (we love to use kosher salt) and fresh ground black pepper. Put it in the oven on the middle shelf.
Check meat every 10-12 minutes with a meat thermometer until the roast is 135º F. When meat center comes to temperature, it should be a medium -rare.
Remove from oven and let sit 3-5 minutes before serving.

If you prefer a different "doneness", please read this: Remove roasts from heat when thermometer registers 5-10° F lower than the desired doneness as the temperature will continue to rise while the meat is resting. Medium Rare (135° F)Medium (145° F)Medium Well (150° F)Well (160° F)The USDA recommends steaks and roasts be cooked to 145°F (medium) and then rested for at least 10-20 minutes.