Sweet Onion Relish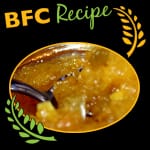 Ingredients
Produce Department
4 cup sweet onion, chopped (2-3 large)
Dairy Department
Bulk Department
1/4 cup apple cider vinegar
2 tbsp honey
2 tbsp maple syrup
2 tbsp brown sugar
1/2 tsp salt
1 tsp black pepper (freshly ground if possible)
Grocery Department
1/4 cup Modena balsamic vinegar
1/2 cup vegetable broth, chicken flavored
Directions
Melt butter in a large saucepan over medium heat.
Increase heat slightly and add onions. Saute until their color turns golden to lightly browned (about 15 minutes).
Add the vinegars, honey, maple syrup, brown sugar, salt, and pepper. Stir and turn heat down so the mixture is at a simmer and cook the liquid down for about 5-6 minutes.
Add broth and keep mixture to a simmer, stirring occasionally until liquid is nearly gone.
Let cool and put your sweet onion relish in a lidded glass jar in the refrigerator. Let chill at least an hour before serving with cold sliced ham or turkey for appetizer or sandwich. Rewarm as a topper for hot ham, turkey or ribs as part of a meal.