This is an interesting end policy that invites much discussion. It was created relatively recently after a few difficult years of turmoil in our Co-op, marked by tragedy on many levels. The board, in reflection on this time, thought it necessary to explicitly address the overarching goal of a positive internal culture, as defined by cooperative values.
End #3: The BFC exists to meet its shareholders' collective needs for a workplace where cooperative values are modeled.
The International Cooperative Alliance, a non-governmental organization founded in 1895, defines itself as "the apex body representing cooperatives, which are estimated to be around three million worldwide, providing a global voice and forum for knowledge, expertise, and coordinated action for an about cooperatives." Co-op values are actually named and defined as such by this organization:
Cooperatives are based on the values of self-help, self-responsibility, democracy, equality, equity and solidarity. In the tradition of their founders, cooperative members believe in the ethical values of honesty, openness, social responsibility and caring for others. (www.ica.coop)
In my position as General Manager, I monitor and collect data on all the policies that the board has defined for our organization to measure our effectiveness. This End is a very challenging policy to measure, but I have attempted to do so in the context of these particular defined values.
The first requirement is to attempt transparency in all that we do, within legal and professional bounds. I think our Co-op has always been very open about its inner workings, and we have continued to expand this approach in the ways in which our board communicates about its work, and the ways in which our staff and I communicate about our business. As I have said in these pages before, I believe this is a very precious and unusual part of the co-op difference, where you—as one who utilizes and owns our Co-op—should know more about what we do here than the average customer at an average store. You will see this all over our website as well, with lots and lots of information about our business, open to the world. We of course do that internally as well, with open-book management practiced on a variety of levels, including quarterly financial reviews open to all staff who wish to attend.
"…who wish to attend." Note those beginning values again: self-help and self-responsibility, self-motivated values that are necessary to exercise in order to create a functioning democracy. I think we should all be on a path of learning, to be better citizens in our workplace as well as our nation and our world. We offer a quarterly orientation program over three full days called the Orientation Passport, which focuses on all the departments, in their own words, for new and existing staff to better understand their goals and procedures. There are also segments to discuss diversity and inclusion, understanding financials, the natural foods industry, safety and security, the union, and, of course, the critically acclaimed "Co-ops 101," developed and presented by Ruth from our Shareholder Services staff built on a template originally constructed by our friends at the Neighboring Food Co-ops Association.
We also make training available as often as fiscally possible. Last year, we sent 100 individuals to thirteen different trainings, including National Co-op Grocers workshops/meetings, CDS Consulting Co-op workshops, ServeSafe trainings, OSHA trainings, supervisory workshops, as well as hosted multiple workshops about bystander training in harassment situations, thanks to our friends at the Women's Freedom Center. We also have access to online trainings in a variety of software programs and department-specific areas, which managers are encouraged to utilize.
We have a number of programs available to all staff. One is a long-time practice of sick-time donation, where anyone can donate a portion of their paid time off to a colleague who is out of work for a considerable length of time that exceeds their own banked hours. We offer personal finance workshops from United Way, open office hours from insurance and 401K providers, and on-site services from nurses with flu shots and retirement/Medicare advisors. This last year when we lost several beloved staff members, our employee assistance provider came on site multiple times with a counselor to hold private grief sessions for anyone who wished to attend.
We have traditionally surveyed staff once a year to determine satisfaction with a number of workplace issues. We have run into problems with this practice due to the difficulty of getting a statistically large enough percentage of the staff online to document their feedback. Moving forward, I will be meeting with staff and management to decide how best to obtain staff input in a complete way, not simply the polar ends of the spectrum. We may come up with a variation on this same practice, but I hope that our discussions will convince most of our staff to participate, in order to continue our measurement over time and compared with other cooperatives like ours.
In summary, I remind myself frequently that the Ends policies are aspirational. They serve to keep us prioritizing appropriately and continuously striving for better. Our workplace often exhibits the most human, caring, and supportive environment you can imagine, with a few moments here and there reminding us that we are, after all, only human. Upon reflection, how important is it to you to have our Co-op be one that models cooperative values? Does it affect how you support our Co-op? Let me know—I'll see you in the aisles!
Sabine
By Sabine Rhyne, General Manager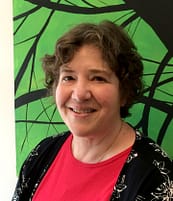 P.S. Do you enjoy the Food for Thought newsletter? In an effort to save some money, we are planning to send out a printed copy only every other month. You will get the newsletter without missing a beat, or a month, if you send us your updated email address. So send your email address without delay to shareholders@brattleborofoodcoop.coop!